STEP 1
OPTION 1
Upon arrival to LAX, just outside of baggage claim, stay on the inside curb and proceed to the pink sign that reads "LAX SHUTTLES".
Look for and board the White Green Line Shuttle.
Tell the driver you are going to the first stop at the "Remote Rental Car Depot".
When you arrive, please call (310) 330-4600 if the Midway shuttle is not at the rental car depot to pick you up. We will quickly dispatch one for you.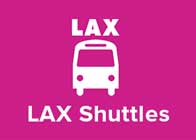 OPTION 2
If you don't mind a short walk after your flight, feel free to walk to our office location. We are 1 block from the LAX Airport. Approximately a 7-10 minute walk from Terminals 1-3